Most robust and simple VR player
Download for free. Any platform.
Free Download
Swiss Army knife of VR video players
Supports any formats, subtitles and audio tracks
1. Built-in A-B loop
To go through your favorite moments, again and again, again and again, again and again…
2. Stream anything from anywhere
Simply copy video address to your buffer and click "Stream" once in VR.
3. Switch between back-ends
Windows Media Foundation doesn't play? Install codec pack and play with DirectShow to max out your GPU
4. Rich color settings
Anything you need from contrast to brightness, from saturation to hue and sharpness
5. Numerous adjustments
Horizontal and vertical offsets, zoom, tilt, height and many more
6. Transformable
Reposition windows, hide and pin them, drag them around to make your own interface
What people say about DeoVR
Nothing says more than a happy users
Completely free, and the best VR video player I have tried. I've tried pretty much all the other ones. None work as well or as easily as this.
penguinjones85, Steam
Wow. Best vr player I've tried and I've tried a lot. The head tracking is amazing and Deo is the best I've seen as far as using a vive controller! Wasn't expecting much because it was free but it's now the best player I have.
stoney0713, Steam
This is definitely the VR media viewer to have. I love the Steam player, but DeoVR is far more flexible and, of course, can play the MKV files that the Steam player cannot. Plus the ability to freely control brightness, contrast, sharpness, et al, is invaluable when trying to watch less-than-ideal-quality video content. Works brilliantly with my Samsung Odyssey.
bblindstrom, Steam
File format autorecognition
Set the correct stereo and angle automatically — include the mode markers into the filename. The order doesn't matter: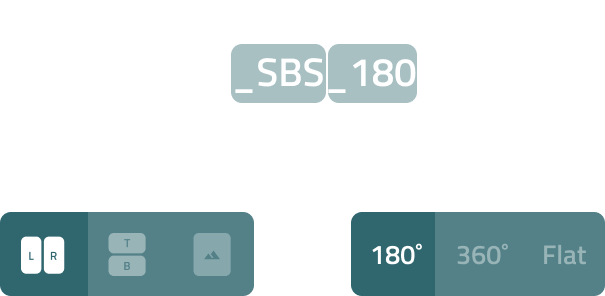 StereoMode:


_180 / _360 / _fisheye /
_mkx200 / _vrca220



SpatialAudio:


_FB360



Screen Type:


"LR" or "3DH" or "SBS"
"TB" or "3DV" or "OverUnder"
Title_FB360_SBS_180.mkv sets
Side by Side & 180 & Spatial sound
Don't think twice
Download for free. Any platform.